We've all heard about some big, well-planned proposals: the ones on the big screen at the baseball game, or captured on TV or in front of a teacher's classroom. But this proposal? This is one of the most unique, touching and funny ones I've ever seen. Though, hey, maybe I'm biased.
See, I just got a letter from a guy who took proposing to his half-orange very seriously. Or, rather, seriouslyadorably. And as someone who believes that each one of us can be Meeting Your Half-Orange, I was thrilled to read what Larry wrote to me about proposing to Claire:
"Claire's last name is Naranjo which is Spanish for orange tree. Growing up, her parents always called her "their little orange" and told her some day she will meet her "other half of the orange." So I decided to dress up as half of an orange and make a video about my quest to find my other half."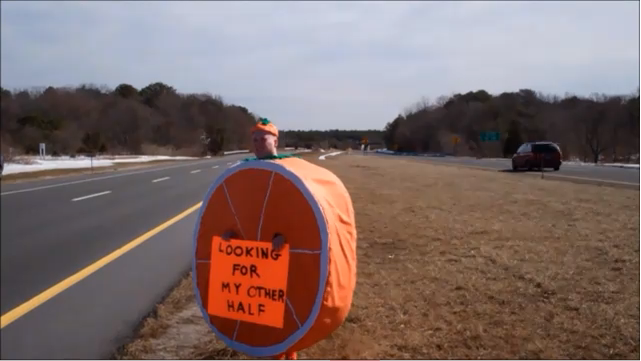 You can watch both the first part of Larry's journey, and the second-half and the proposal. The video is a charming reminder that sometimes the search for your other half in love is a long, tiring road. But when you want it and you go for it, you can have it. As you'll see, Larry was ready. And by the sound of it, Claire was ready, too.
As Claire's mother Clara says in the video, "She always used to tell me, 'I'm never going to get married.' And I used to tell her, 'Don't worry. You're going to get married. You're going to have children. . . One day you're going to find your half an orange.'"
Isn't Mom's always right?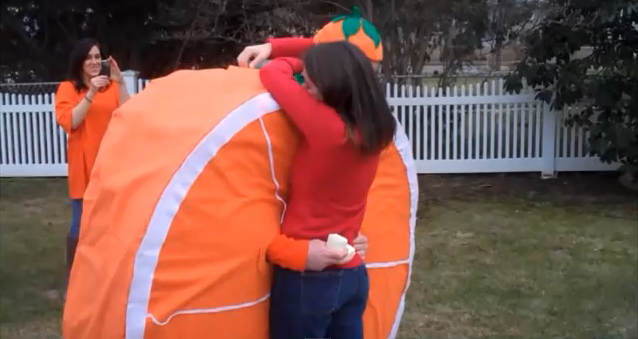 I say the same to you. One day, you'll meet your half-orange. Let this be a reminder that your other half is out there, too. Someone who will go to the craziest lengths to prove their love, to show they've been listening, and to beg you to be part of their lives forever. Larry & Claire, thanks for the inspiration and we wish you luck in your bright, sweet future!
—Amy